The increasing pollution in water environments has harmful, even dangerous, effects on health, security, well-being, on any use whatsoever of the water, as well as on the environment. Technological innovation provides tools to combat this phenomenon through an analysis of environments, the identification of microorganisms but also through the monitoring of plankton.
See other innovations
.
Alexandre Liccardi, Digital innovation and Big data Head of mission within the French Agency for Biodiversity (AFB) and Raouf Gnouma, director of the Water activity within environmental engineering consultancy BURGEAP; take a close look at three such initiatives.
New technologies at the service of the fight against pollution in aquatic environments and to facilitate the monitoring of ecological ecosystems.
Microscopes and artificial intelligence, with IBM's solution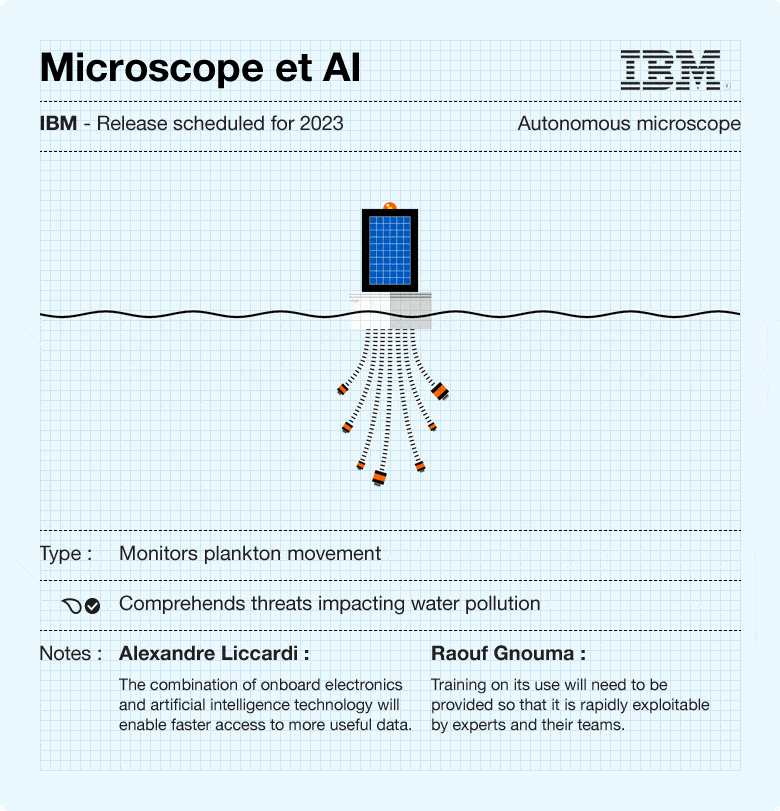 In order to help scientists to gather and analyse data relating to the conditions of oceans, lakes and rivers in real time, IBM is developing an autonomous microscope charged with monitoring and following the movement of plankton that will be operational in 2023. Why plankton? Because it is a natural detector of aquatic health: its behaviour varies when the quality of the water in which it lives is modified.
IBM's solution will make it possible to analyse its behaviour in its environment according to variations in temperature or water composition. For example, in case of a black tide, or a red tide (caused by an excess of a microscopic unicellular organism belonging to the dinoflagellate category), or still according to currents and streams.
These measurements will make it possible to gain an understanding of the various threats having an impact on water pollution. This means reacting rapidly and sending a boat to clean up the oil spills in the case of a black tide for example.
The microscope, which contains an imaging chip (like those used in smartphones), captures the plankton's shadow, which generates data that, when turned into indicators, will provide precious information on the water quality. IBM plans to equip it at a later stage with an artificial intelligence that will enable it to analyse and interpret the data locally and in real time.
Alexandre Liccardi. This project touches upon bioindication and environmental assessment, which is an important expenditure item of today's ecological initiatives. Studies on plankton as a natural indicator have been around for over fifty years, in particular for assessing water quality within the scope of fishing activities. With this innovation, which combines onboard electronics (if the microscope can be taken onboard boats) and artificial intelligence technology, this project will facilitate true scientific and technological breakthroughs, with the possibility to have faster access to more useful data. This innovation will be essential for collecting data in real time, transmitting it, and turning it into relevant indicators.
Raouf Gnouma. This technique is very interesting, because the acquisition of reliable data, in real time and in the right place, is the key for triggering any warning and action system. But I do wonder about the cost of this type of system, because it must be accessible to all organisations monitoring the ecosystem, particularly communities and unions. Furthermore, as it is a rather specialised technology, training on its use will need to be provided so that it is rapidly exploitable by experts and their teams.
Aquatic drones, with ADCPro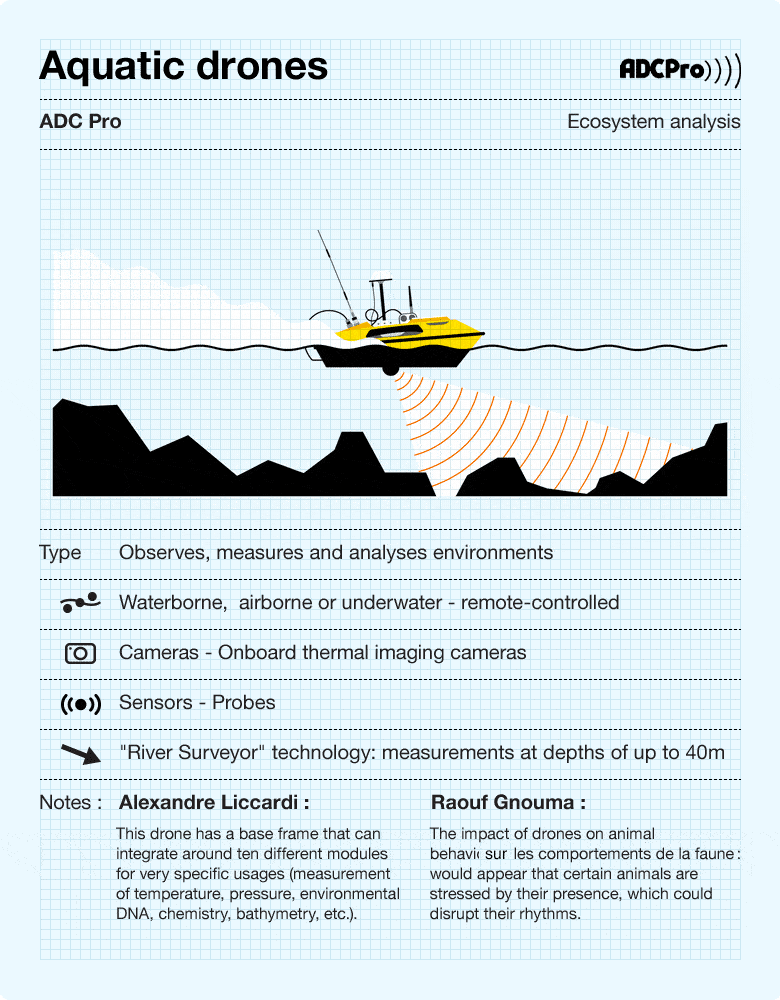 Monitoring the aquatic environment sometimes requires accessing dangerous, polluted, or hard-to-access areas. For several years, scientists and aquatic ecology professionals have been turning towards the use of drones developed specifically for aquatic environments. These drones can be remote-controlled, water or airborne, or underwater. They use cameras, probes, sensors, or even onboard thermal imaging cameras. And they can analyse, measure, and even observe ecosystems.
Such is the case of the drones developed by company ADCPro that can be piloted or autonomous. Thanks to the onboard RiverSurveyor technology, some of these can perform flow measurements at depths of up to 40 m. Others take bathymetry measurements for mapping, or samples so as to analyse the water.
Alexandre Liccardi. ADCPro offers high-performing tools. We call upon consultancies that use their material to perform precision bathymetries (measurement of sea depths) and flow measurements. But they don't integrate the innovation of modularity and interoperability. For example, the AFB has designed the Aquadrone, an open source underwater drone for exploring and monitoring lakes and rivers in real time, entrusting its implementation to the ESIPE (École supérieure d'ingénieurs de l'université Paris-Est). Their sensors are less precise than those of the ADCPro, but functionalities can be added to it. This drone has a base frame that can integrate around ten different modules for very specific usages (measurement of temperature, pressure, environmental DNA, chemistry, bathymetry, etc.).
Raouf Gnouma. Drones are very good tools for rapid data acquisition. They are being developed more and more for ecosystem monitoring actions. They enable important time savings, and very precise monitoring thanks to data correlation. From a security point of view, this technique is also very useful because many ecosystems are not accessible to man, for example, due to chemical or radioactive pollution.
Nevertheless, the use of drones is still restricted because of, on the one hand, regulatory constraints making it impossible to fly over all areas; and, on the other hand, the expertise required to pilot and manipulate them.
The impact of drones on their environment also needs to be studied, in particular on animal behaviour. In effect, initial observations show that certain animals are stressed by their presence, which could disrupt their rhythms.
A machine learning algorithm, with the University of Geneva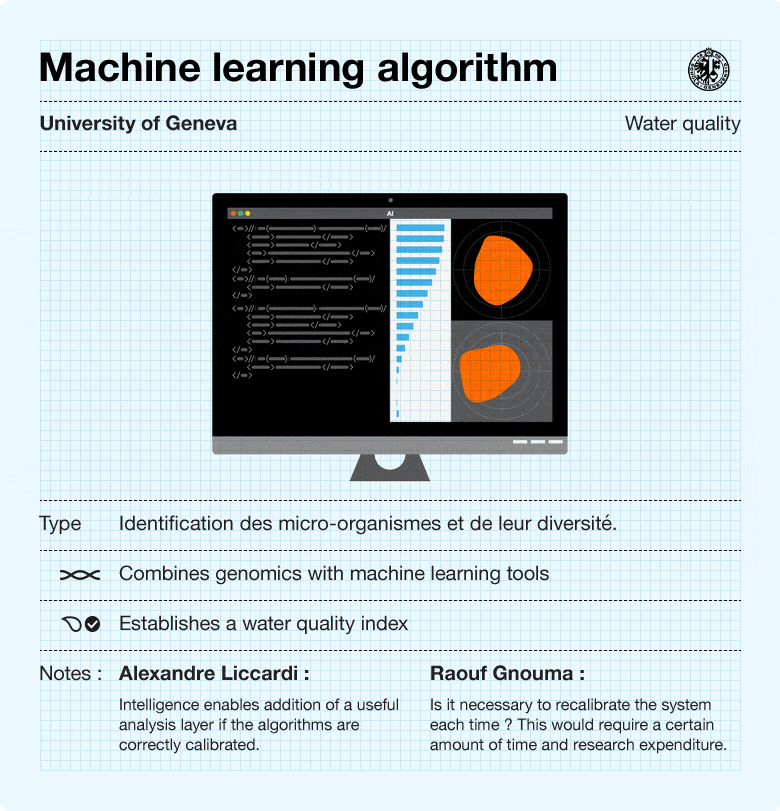 A recent discovery enables scientists to monitor the health of ecosystems' environments, in particular aquatic ecosystems, thanks to the observation of their microbial diversity. In 2018, researchers from the University of Geneva (UNIGE) developed a method that combines genomics with machine learning tools to identify microorganisms and their diversity. As they are particularly sensitive to changes in their environment they have been used as bioindicators.
However, as the identification of microorganisms requires a lot of time and expertise, the researchers only collected data from some of them. They then applied a machine learning algorithm and a predictive model to them so as to create a complete reference system and establish a water quality index.
This new method will make it possible to considerably improve the performance of ecosystem observation systems, but also to decrease analysis times.
Alexandre Liccardi. Identifying the DNA of proteins specific to certain species requires large budgets. The University of Geneva is not the only research organisation carrying out works to facilitate these identifications. The University Savoie Mont Blanc and the University of Pennsylvania, for example, are also working on this. Artificial intelligence is a very interesting technology for studying environmental DNA. It enables addition of a useful analysis layer if the algorithms are correctly calibrated. In general, for all innovations using new technologies, the methods, practices, and assessment models already exist, and it is about, as is the case here, optimising and improving them. These new methods are very promising, as much for scientific collaboration (building knowledge bases) as for facilitating action on the ground.
Raouf Gnouma. These bioindicators are relevant and complementary to the physicochemical analyses used to assess the ecological status of ecosystems. They are being developed more and more and their first results are encouraging. But how does one transpose these elements of information from one site to another? As the microbial diversity is different, I wonder, in effect, if it is necessary to recalibrate the system each time, which would require a certain amount of time and research expenditure.