- Updated on Wednesday 31st of May 2023
Reading time: 3 min
● The French start-up has developed computer-vision tools and drones that sow mixes of seeds to facilitate the customization and scale-up of reforestation projects.
● Ecosystems are analysed ahead of time, and long-term project monitoring is provided by data gathered with satellites and drones that can be loaded with several thousand capsules of tailored seed combinations.
● For Morfo, which is involved in a variety of projects, mainly in Brazil and Equatorial Africa, data analysis plays a key role in optimizing solutions to regenerate local biomes.
The restoration of forests is a major challenge in the bid to combat climate change. As a 2021 report presented at the launch of the United Nations Decade on Ecosystem Restoration pointed out, the time has come for the world to "deliver on its commitment to restore at least one billion degraded hectares of land in the next decade – an area about the size of China." However, "The difficulty is one of scale-up" explains Adrien Pages, a co-founder of Morfo, one of the start-ups present at the ChangeNow trade fair, which is showcasing, among other innovations, technological solutions for reforestation. "Reforestation initiatives that are underway often involve monoculture tree plantations whereas projects to restore complete, complex ecosystems are what is required. Before going to work, we have to fully understand these. At the same time, there is a need for tools to monitor the progress of reforestation, which is not always easy in inaccessible areas." And this is where technology can help. Using agricultural drones equipped with computer-vision and machine-learning algorithms, Morfo has the capacity to collect data on ecosystems, which offers insights on how they can be replanted. In collaboration with scientific teams from France's Research Institute for Development (IRD), National Research Institute for Agriculture, Food and the Environment (INRAE) and Agricultural Research Centre for International Development (CIRAD), Morfo has studied the complexity of interaction between plants and micro-organisms to create ecosystems that are the best adapted for the restauration of lands, which have been degraded by intensive agriculture and megafires.
It is not possible to engineer exact recreations of original ecosystems, however, the goal is to enable them to regenerate
Around 3,000 to 4,000 capsules per drone
"When the field study has been completed, that is to say when we have cross-referenced the drone data with surveys on the ground and satellite images, then we can go to work on the reforestation project." To this end, Morfo combines pregerminated seeds of several species in capsules, which also contain protective micro-organisms. "These are then sown, area by area, according to a pre-determined planting pattern that only drones can follow." The idea is to create a pattern that takes into account the topography, the different available soils and even water quality. "A drone, which can be loaded with 3,000 to 4,000 capsules, has the capacity to sow a hectare. Our goal is to plant 20 species per project. When the planting has been completed, we move on to monitoring, in other words we use the drones to keep track of biomass, biodiversity and carbon stocks", points out Adrien Pages. Nonetheless the entrepreneur warns that it is not possible to engineer exact recreations of original ecosystems. However, the goal is to enable them to regenerate, notably by attracting wildlife, which plays an important role in the dispersal of seeds.
Projects of a different nature
To date, Morfo has mainly worked on projects in Equatorial Africa and in Brazil's Atlantic Forest, which is one of the most degraded in the world. The unique, large biome on the Brazilian coast is a critical biodiversity area, which has lost 80% of its original vegetation. "We also plan on having a social impact through the local sourcing of seeds, which helps create jobs in the immediate area." The start-up, which raised four million euros in late 2022, also benefits from revenue generated by reforestation projects. These can result from legal constraints imposed on private companies in the construction, wind energy, and extractive sectors, who are obliged to offset their carbon footprints. Others emerge from public initiatives. One notable example is in São Sebastião, Brazil, where devastating landslides resulted in an urgent need to replant ecosystems to avoid this kind of catastrophe. "In Brazil, restoration projects are funded by carbon offsets with high environmental and societal value." According to the entrepreneur, the monitoring tools made possible by Morfo's technology enable these projects to benefit from added transparency.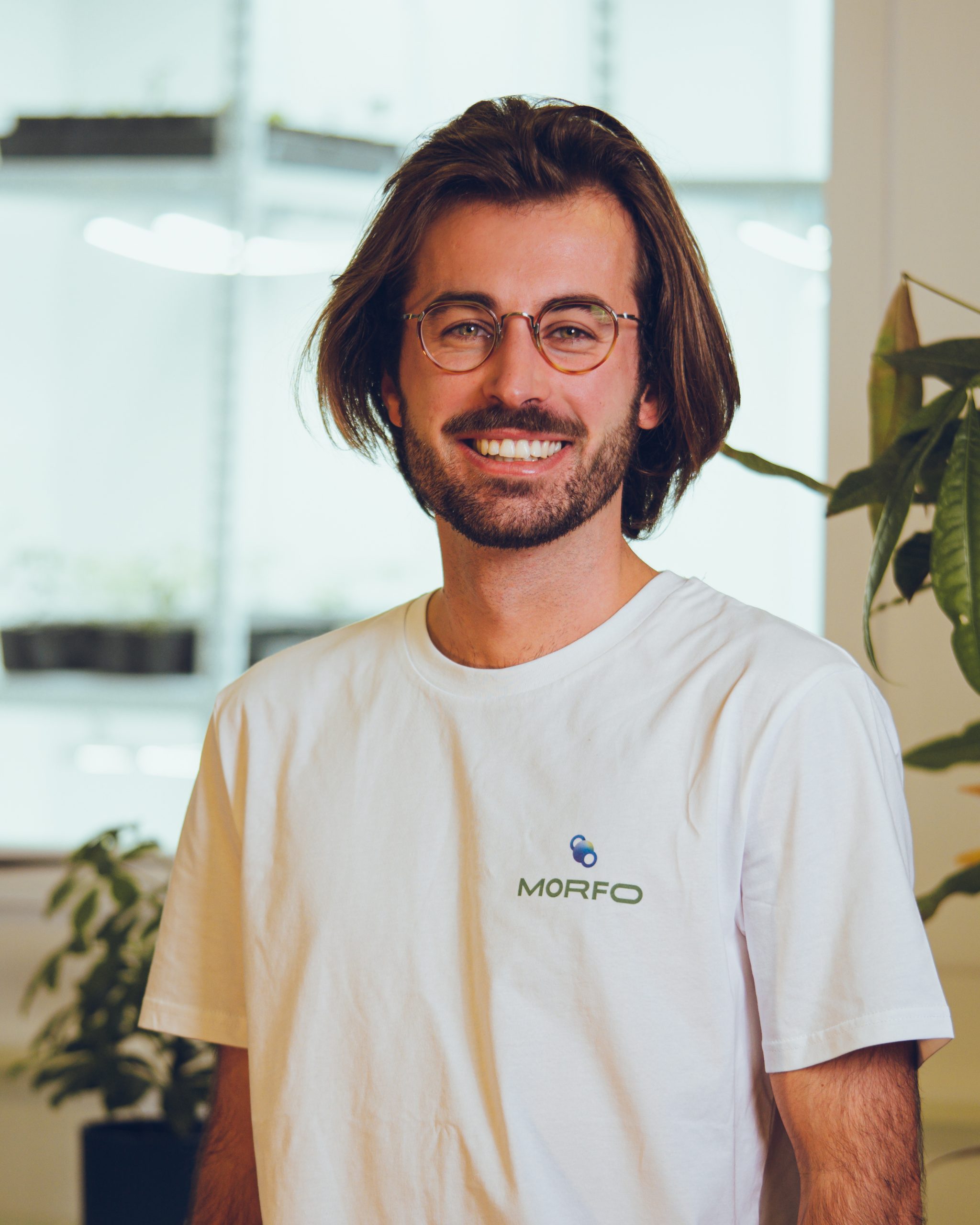 Adrien Pages
While a student at EDHEC Business School (he graduated in 2020), Adrien Pages co-founded Fairbird, a French brand of eco-packaging for the hotel and restaurant sector. In 2021, he teamed up with Pascal and Hugo Asselin to develop a unique technique for large-scale reforestation which became MORFO.