By 2045, cities will be home to 6 billion inhabitants1. To accommodate them, large cities, businesses, and even startups are banking on the smart city. In this field, there are many technological breakthroughs and innovations under way or to come. Be they theoretical, in test phase, or already deployed, here some of them are examined by Catherine Ramus, a designer engineer at Orange, and by Emmanuel Routier, VP Verticals IoT & Analytics at Orange Business Services.
IoT, autonomous vehicle, or biomimicry, the innovations that are serving the smart city of tomorrow.
Innovations that are theoretical or currently being tested
Between unwanted and indispensable, the issue of the delivery of the last kilometre thanks to autonomous vehicles is divisive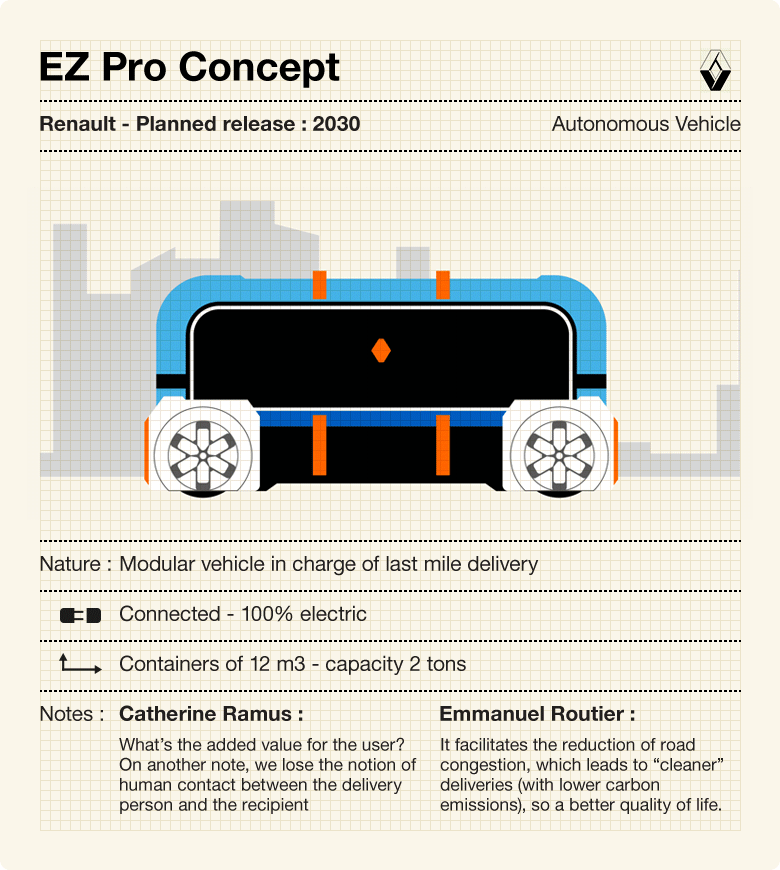 After announcing its "EZ-GO" concept, an autonomous private hire vehicle for transporting people that should be ready by 2022, Renault developed the "EZ-PRO" idea. If this does take shape, it will be by 2030. The aim of this concept is to deal with the problems relating to the delivery on the last kilometre to the end customer – congestion of traffic zones, limited access and delivery time slots, size and weight restrictions on delivery vehicles, etc. – as faced by e-merchants and transport companies. The concept would replace vans and their drivers, and would be used and shared by different companies so as to optimise occupancy and journeys. This shared vehicle would include a "pod leader", i.e. an area dedicated to a concierge that would process all the administrative operations linked to the supervision and planning of deliveries and routes. The second part of the vehicle would be made up of "robot pods", 12 m3-containers on wheels, with a capacity of two tonnes, capable of travelling autonomously to delivery points.
Catherine Ramus: Even if this "idea" could provide e-merchants with the possibility to share their logistics costs, what's the added value for the user? I wonder what that will change for them. On another note, we lose the notion of human contact between the delivery person and the recipient, which isn't the desired goal.
Emmanuel Routier: This innovation has real added value for the user, because it enables improvement, or at least stabilisation, of delivery performance. With the "exponential" development of e-commerce, this is indispensable. It also provides the possibility to lower delivery costs, which are usually billed to the end user. And finally, it also facilitates the reduction of road congestion, which leads to "cleaner" deliveries (with lower carbon emissions), so a better quality of life.
The notion of human contact is effectively lost, but that is already the case today as most deliveries take place during the day and parcels are left at pick-up points.
Hyperloop: will travelling in the future be at 1,200 km/h?
The Hyperloop is an industrial research project, launched in 2013 by Elon Musk. Since 2016, several companies have been working on the development of this technology: Hyperloop One, Transpod, and Hyperloop Transportation Technologies.This entails the building of magnetic levitation trains, composed of pressurised capsules – made from a new metal called "Vibranium" (inspired by the Marvel comics world), and that are 32 m long and 15 m wide –, that could carry passengers at the speed of 1,200 km/h. It would thus be possible to go from Paris to Toulouse in 40 minutes, or to Amsterdam in 30 minutes. To achieve its aims, the American startup has developed cutting-edge technology that uses a levitation system with vacuum pumps, or still smart batteries and composites. Toulouse was chosen in 2017 to host the company's European R&D centre and the test track consisting of tubes, which is intended to test Hyperloop TT supersonic capsules, are currently being assembled at the Francazal site. The first full-size model of the capsule, called "Quintero One", was shipped from El Puerto de Santa Maria in Spain where it was manufactured.
Catherine Ramus: Does the user need to get from Paris to Toulouse in 40 minutes? This innovation is looking to maximise the profitability of means of transport, but not necessarily to cater for users' needs.
Emmanuel Routier: The occupancy rates of air shuttles currently on this route proves that the many travellers could benefit from this innovation. It will enable people to make the most of the Toulouse quality of life, all the while working in Paris; to no longer suffer the inconveniences linked to air travel such as that of having to get to the airport (which is always far from the city centre); ease boarding (although this is already in place for shuttles); as well as reduce the carbon footprint of the travellers in question.
Innovations currently being tested
Biomimicry could make it possible to have lighting without electricity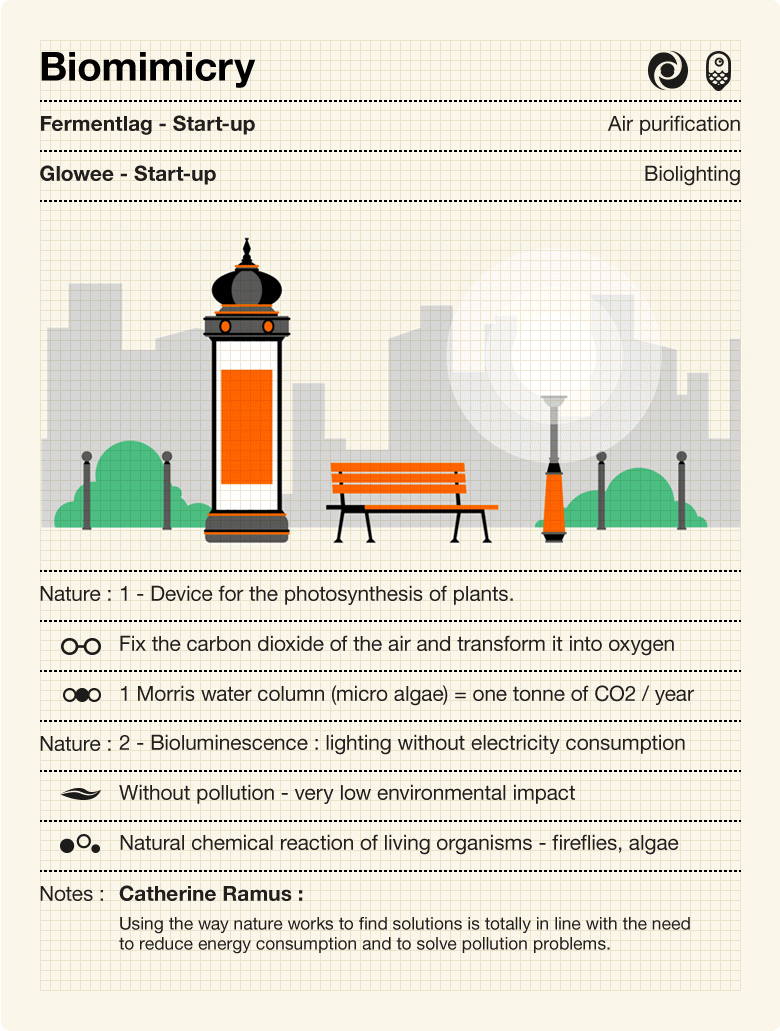 For three years now, French startup Glowee has been developing a biolighting system with no electricity consumption, thanks to a natural chemical reaction present in living organisms (in particular fireflies and algae): bioluminescence. For this innovation, it's all about drawing inspiration from the way nature works in order to develop city lighting with no pollution and a very low environmental impact, because light in the city is at the root of several problems, notably that of artificial night-time lighting that can interfere with plant and wildlife ecosystems, but also with human health. Today, the Glowee solution is used during events and as a soothing light in relaxation zones.
Biomimicry could clean-up urban air
To address the growing problems of air pollution in cities, startup Fermentalg, in partnership with Suez, has launched a carbon sink test solution in Paris. This entails making use of the photosynthesis process of plants, which fixes the carbon dioxide present in the air and turns it into oxygen. This is what has been under test since the start of this year in a Morris column filled with water, so with microalgae, at the Place Victor-et-Hélène-Basch in the 14th arrondissement of Paris. In effect, this junction through which 72,000 vehicles pass per day is highly polluted. The air that is purified by the microalgae in the Morris column is then sent back outside. This system should fix a tonne of CO2 per day, which is the equivalent to what is usually absorbed by one hundred trees.
Catherine Ramus: Mimicry is a field of study in design that is very interesting. Using the way nature works to find solutions is totally in line with the need to reduce energy consumption and to solve pollution problems. These innovations are realistic, efficient, useful and what's more, they are highly economical. It is clear that the smart city of tomorrow needs these.
The valet robot of the future is arriving in public car parks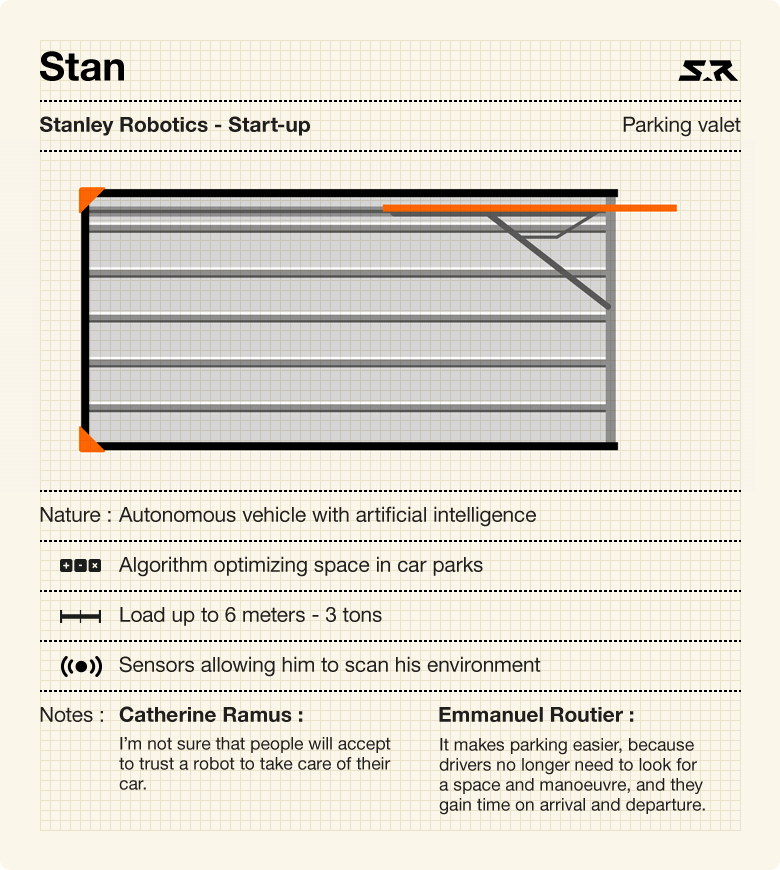 Stan, the parking valet developed by startup Stanley Robotics, has already nearly moved past the test phase, as in several weeks' time it should be cruising the aisles of the Lyon-Saint Exupéry airport car park. It saves time for passengers looking for a parking space and, what's more, it enables optimisation of the available space and so maximises the profitability of car park management companies. In practice, the driver drops their car at the car park entrance in a secure booth, Stan rolls out its arms under the car, lifts it up, parks it, and brings it back to the booth when its owner comes back. The startup declares that its robot makes it possible to store 50% more vehicles compared to a car park that does not have its valet parking robot.
Catherine Ramus: I'm not sure that people will accept to trust a robot to take care of their car. And more importantly, this commercial optimisation of space is part of a profitability goal for car park managers, but not one of comfort for users.
Emmanuel Routier: I can see obvious benefits to this innovation. It makes parking easier, because drivers no longer need to look for a space and manoeuvre (with spaces becoming smaller and smaller), and they gain time on arrival and departure.
Innovations already deployed
Does smart parking mean the end is nigh for time lost finding parking spaces?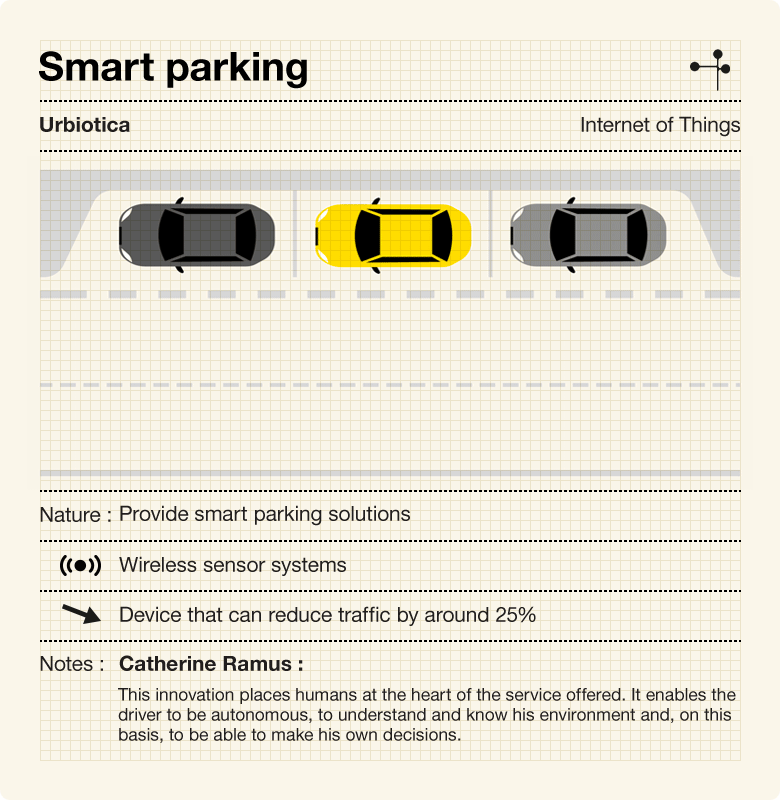 Spanish startup Urbiotica is making the most of IoT (Internet of Things) technology to develop wireless sensor systems so as to provide smart parking solutions. Around twenty cities across the world have taken them onboard, like Burlington in Canada. In effect, the city has deployed a smart parking system made up of over 400 sensors across the city centre's streets and car parks in order to better understand motorists' behaviour, rush hours, parking times, inflow and outflow and, in the long term, to adjust its urban traffic policy and offer motorists tools to guide them to free spaces. The city of Nice had adopted the solution and installed 4,500 sensors on the city centre's squares in 2014 before abandoning it for financial reasons (demonstrating that maybe the model still has room for improvement), but the system did nevertheless reduce the traffic linked to searching for spaces by roughly 25%, in particular thanks to guidance to available spaces.
Catherine Ramus: This innovation places humans at the heart of the service offered. It enables the driver to be autonomous, to understand and know his environment and, on this basis, to be able to make his own decisions. In this way, this innovation is very positive in terms of usage, it must be encouraged.
Smart lighting or how to make savings thanks to the IoT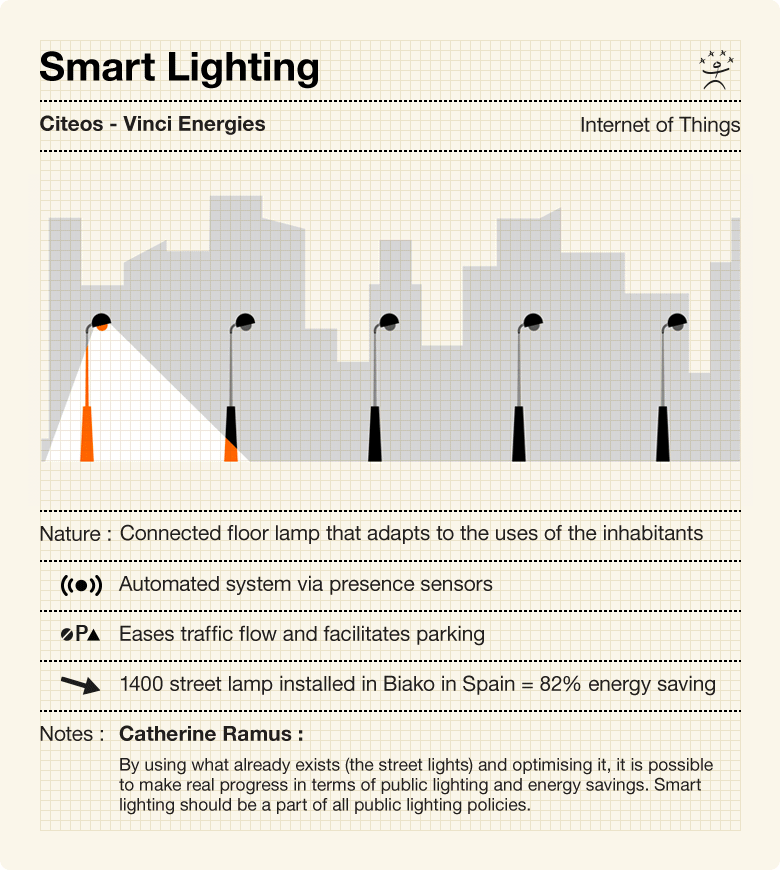 Citeos, a Vinci Energies brand, has developed solutions to enable cities to adapt to its inhabitants' usages in order to make savings on public lighting. Thanks to smart street lights and a system that is automated via presence sensors, lighting comes on according to pedestrian and vehicle detection, and is reinforced in low-visibility areas. The startup is a pioneer in the area of urban equipment – sensors, detectors, cameras – that is capable of communicating with its environment and optimising its operation. It eases traffic flow and facilitates parking. In Chartres, the installation of 17 smart street lights led to a 65% reduction in electricity consumption. And in Bakio in Spain, 1,400 smart street lamps have enabled energy savings of 82%. Citeos is also working to develop onboard technologies that will make it possible to inform users in real time via information boards.
Catherine Ramus: By using what already exists (the street lights) and optimising it, it is possible to make real progress in terms of public lighting and energy savings. Smart lighting should be a part of all public lighting policies. To achieve this, it should be made easy, in other words financially accessible, to network all equipment so as to make this practice widespread across all cities.
IoT could make it possible to automate waste management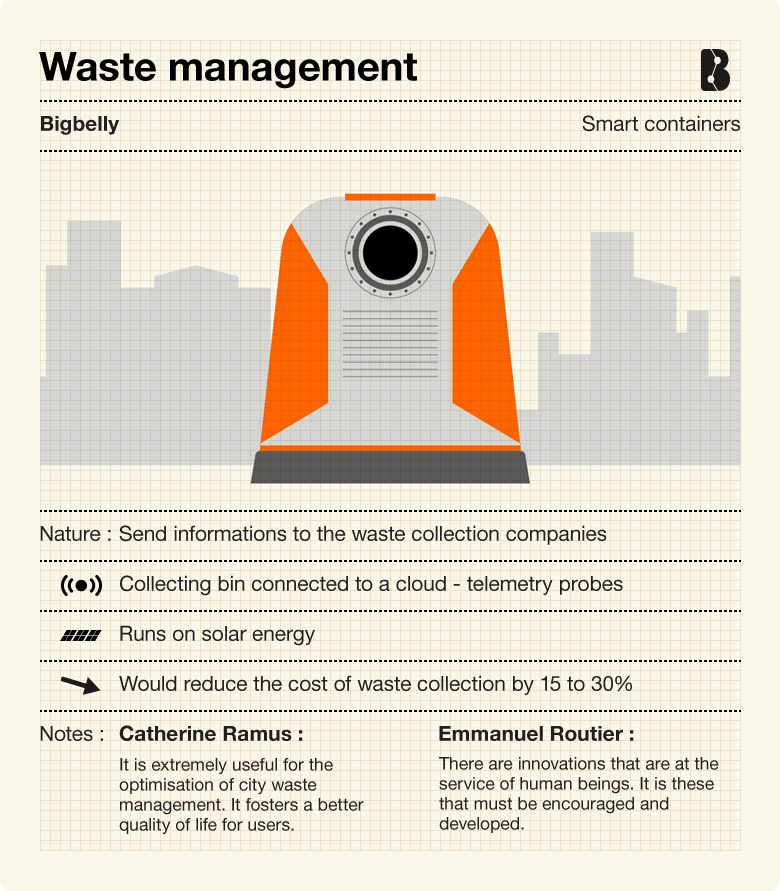 With the increase in urban population, new waste management problems are arising. It is effectively necessary to reduce greenhouse gas emissions caused by waste collection trucks, to limit the congestion they cause when they are collecting, and also to avoid any hygiene problems. Many initiatives have emerged in response to these problems. In the United States, several cities (Philadelphia, San Diego, Los Angeles, New York, or Chicago) use Bigbelly, a waste collection station connected to a cloud, that runs on solar energy, and sends information on the collection point's filling level to the waste collection companies. In France, cities such as Tours, Orléans, Chinon, and Colombes use Sigrenea, which equips containers with telemetry probes, or provides citizens with the opportunity to flag waste that is not in the container so as to optimise collection and to avoid overflow. According to the startup, this system helps reduce the cost of waste collection by 15 to 30%. Other French SMEs have launched similar solutions such as Cybeel or Green creative.
Catherine Ramus: The networking of things facilitates the clarification of public equipment, here waste collection containers. It is extremely useful for the optimisation of city waste management. It fosters a better quality of life for users.
Catherine Ramus: To conclude, we can place innovations for smart cities into two categories. Those whose objective is profitability and performance. Often, these innovations use robotization technology and turn humans into objects. In other words, they deprive them of their free will and dispossess them of certain responsibilities. This also sometimes leads to a dehumanisation of relations, and that isn't my idea of the smart city of tomorrow. And there are those that are at the service of human beings. It is these that must be encouraged and developed as they enable individuals to live better together, in harmony, and to work together for a better world. It is in this way that we can imagine an optimistic world, for which each person feels responsible.
1 – The World Bank, Urban development, overview, 03/2018