Involving several data collection and processing technologies, smart network management enables drinking water suppliers to monitor water quality in real time and to optimise network performance and renewal.
"Machine learning models make it possible to calculate the probabilities of leaks so as to target priority pipelines for renewal."
In a context of diminishing resources and within an ever more stringent regulatory framework, both public and private drinking water suppliers are faced with complex and growing challenges: tracking water quality, improving network performance, reducing operating costs, and energy efficiency. Challenges that smart network management can help them to face up to. Smart network management is based on the multiplication of sensors, the deployment of communicating meters and high-performance networks for data transfer, the use of aerial and satellite imaging and, more and more, of artificial intelligence.
Controlling consumption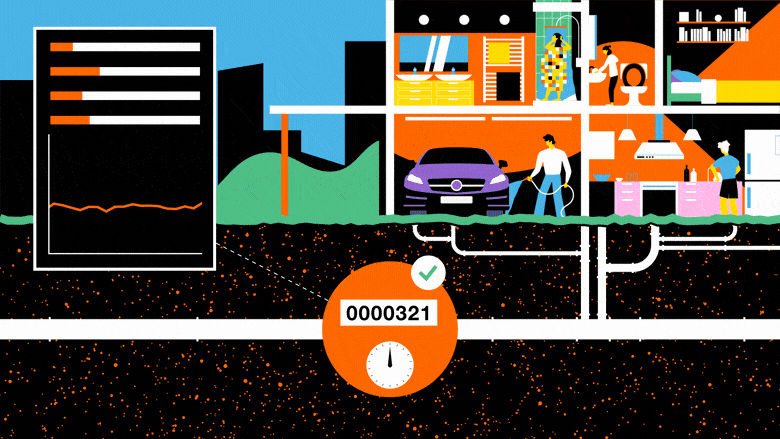 First brick of the evolution towards smart water networks, smart meter reading makes it possible to get a reading of consumption without having to access the meter directly. This solution relies on communicating meters, equipped with radio transmitters, and one or more repeaters and concentrators that gather the data from each meter and transmit this via a GSM/GPRS network, the internet, or LPWAN.
Index reading is automatic, daily and remote, which enables billing based on actual consumption rather than on estimated consumption. This precise tracking in real time helps individuals and communities to better understand and manage their water consumption and to help detect any leaks and potential fraud faster. The data gathered can be processed by applying machine learning or other statistical methods so as to extract useful information.
Smart meter reading thus paves the way for new services in a water resource-saving logic. A pioneer in this area, the Birdz company plans to deploy over 3 million smart meters across France by 2027. In order to do this, the Veolia subsidiary has selected Orange's LoRaWAN® network, an open, interoperable and reversible solution. This low frequency radio network dedicated to connected objects has the particular characteristics of being energy efficient and low cost.
In areas where water is not readily available, this technology can also be used to improve access to running water. Rewarded by the 2017 Orange Social Venture Prize, startup CityTaps has created a smart water meter system with micropayment, linked to billing software, that enables low-income city dwellers to prepay their water according to their means, at any time and from any mobile phone, and water suppliers to optimise their working capital.
Detecting leaks and monitoring quality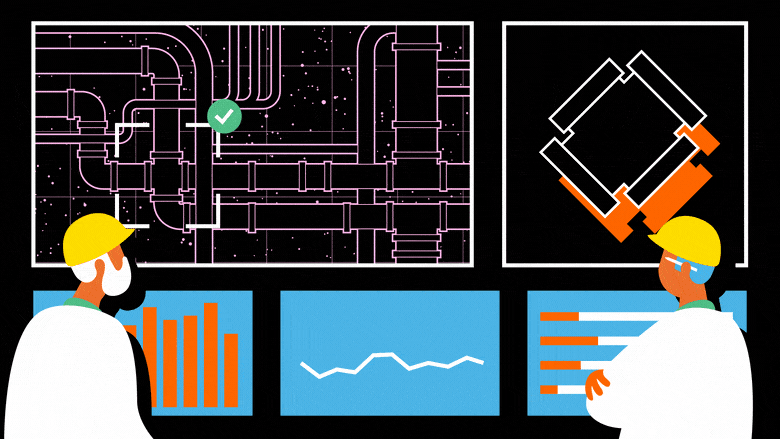 With loss of around 20 % in water supply networks, the fight against leaks is a priority for the sector. At the same time, suppliers must constantly monitor tap water quality, one of the most controlled foodstuffs.
The aim of the sensors is therefore twofold: to improve network performance and to guarantee water health security.
The large majority of leaks are invisible. It is therefore necessary to "listen to the network" in order to detect them. Deployed on the networks managed by Saur all over France, the EAR device has sensors equipped with hydrophone membranes capable of sensing – and translating into waves – the specific noises caused by water leaks.
Coupled with network sectorisation, this technology ensures accurate location of leaks and rapid intervention. The delegatee also offers communities the possibility to install probes in their pipes measuring some ten parameters linked to water quality. Data analysis enables rapid identification of variation between the state of the network at a precise moment in time and a map of its normal state.
Beyond the search for leaks on the ground, aerial research is also being experimented. Financed by the European Union, the WADI project, for example, aims to reduce drinking water loss by 50 % thanks to the use of small planes and drones. Leaks affect the local environment in a way that enables their detection thanks to remote sensors.
"[They] increase the soil moisture content and/or the water content in plants and vegetation. This causes changes in light reflectance at optical wavelengths and infrared emission due to changes in temperature, largely related to evaporation (from soil) or transpiration (in plants)."
WADI therefore combines thermal infrared sensors with data from multispectral cameras to measure these changes.
Predicting leaks to optimise network renewal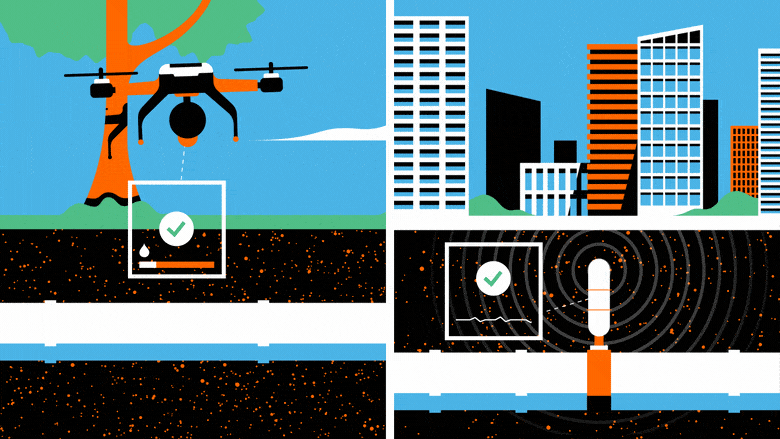 In general, water leaks are linked to network disrepair, however it would be much too costly to renovate the whole infrastructure, and this is where artificial intelligence comes in.
Machine learning models can be implemented to calculate the probabilities of leaks so as to target priority pipelines for renewal and thus decrease the risk of future leaks. The aim being to optimise investments and improve asset management efficiency.
Developed by Altereo, HpO software defines the sections most at risk based on past incidents, but also on a variety of other parameters such as age of the pipes, materials used, diameter, section length, weather, road traffic, etc.
This data is collected by operators, who fill in various types of information and attach photos in a mobile application. This set of information is fed into a database and added to historical data, enabling the self-learning system to create a new indicator: the risk of failure of each section of the network.
HpO has been implemented in several French cities such as Chartres, Tours, or Limoges. In Namibia, Altereo has signed a contract with NamWater, the public undertaking responsible for water management, to renovate the distribution network of the city of Keetmanshoop, in the south of the country.
Supervision centres at the heart of smart management
True nerve centres of smart water management, supervision platforms integrate all of these solutions and aggregate the whole set of data collected. They enable operators to have an overall view, in real time, of the state of installations in a given territory, to react faster and to anticipate problems so as to plan interventions.
Situated in Le Pecq, in the Yvelines department of France, the Suez Smart Operation Center thus supervises all of the communicating meters and smart water technologies of the Group, in France and internationally. It guarantees the performance of the infrastructures and ensures the reliability and updating of millions of data that is sent back to the regional control centres (sixteen VISIO centres across France, providing 100 % national coverage).
It is fed by data notably from the AQUADVANCED software suite for drinking water, which is made up of four tools based on data science: monitoring water quality thanks to the implementation of sensors (AQUADVANCED Quality Monitoring); collection and processing of IoT data issues for real-time monitoring of network performance (AQUADVANCED Networks); securing drinking water production and reducing operating costs (AQUADVANCED Energy); continuous surveillance and optimisation of drilling operations and their pumps (AQUADVANCED Well Watch).