As professional use of the Internet of Things (IoT) is developing rapidly, business needs are becoming more diverse. To respond to this, the publisher IoThink Solutions is offering a software platform so that its customised solutions can be easily developed and deployed.
"Come with your use case, we are here to take up the challenge" – Julien Dalmasso, CEO of IoThink Solutions
Designing an IoT platform, customising it and being able to add it to your range of services is now possible for the first time ever on the Internet of Things market. IoThink Solutions, established in 2016, has just launched Kheiron Studio, a software suite for developing and designing IoT solutions. "This means that integrators, service operators and machine manufacturers will be able to offer IoT solutions very quickly, at minimum development costs and with complete autonomy for designing their business applications", explains Julien Dalmasso, CEO of IoThink Solutions.
With this user-friendly solution, many IoT use cases are already covered: from home automation and industrial installations to the management of buildings and equipment in smart cities, including remote reading of energy meters, smoke detection, air quality, waste treatment, parking, sewage treatment plants, vehicles, industrial machinery, etc.
How does an "IoT studio" work?
In addition to an intuitive graphical user interface, Kheiron Studio is a fully customisable solution that can accommodate many needs with its object libraries and standard use cases. The suite includes an extensive list of market sensors identified by IoThink Solutions, which has developed interfaces and decoders so that they can be used directly in Plug & Play mode.
The software includes a database of use cases that is regularly updated – such as the remote reading of meters, which is one of the most frequently used functions. Once the equipment and connectivity have been selected (LoRa®, LTE-M, 5G, etc.), all that remains to be done is to set up the network of objects, which remains scalable. In addition to the 500 use cases already recorded in the library, the user can create their own proprietary libraries. The models created in this way will then be used on the monitoring apps of the Kheiron Suite (for both web and mobile phone use).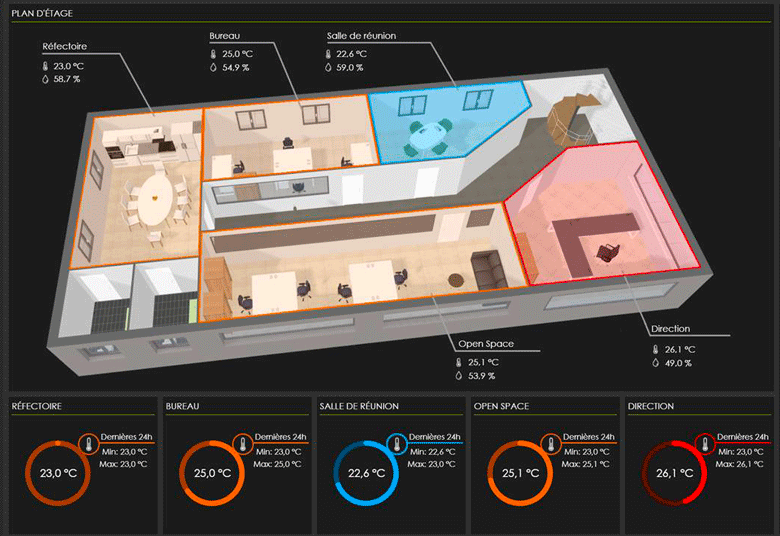 A multitude of opportunities
While IoThink Solutions is not the only publisher in the niche market of customisable IoT and machine-to-machine (M2M) platforms, it is one of the first to provide software to integrate them and sell them alongside another activity. Blue Whale Company, a sensor manufacturer looking to offer new services, is doing just that. The manufacturer immediately branded the platform it designed using Kheiron Studio with its own logo, domain and graphic charter. Its objective? To sell this IoT solution to its customers as a new service, on a subscription basis. A real operation referred to as OEM (original equipment manufacturer): Blue Whale sensors are sold with their IoT platform, under the same brand.
And the future?
With its seamless integration with Orange's IoT Live Objects platform, device and data management, the IoT Kheiron Suite means that the many customers and partners of Orange Business Services can take full advantage of a complete, customised and scalable IoT solution.
With the IoT Kheiron Studio suite, the Group will be able to develop business applications at a lower development cost, using the suite's use case libraries, and respond to calls for tenders from SMEs in several sectors and several countries.
IoThink Solutions will be present at the IoT Solutions World Congress in Barcelona from 29 October on the Orange stand. There is no doubt that each demonstration of the software will be different depending on the activity of the visitors concerned and the use cases relevant to them.