Virtual, evolving, interactive replicas of real systems, digital twins are being developed in many fields. They can help to reduce design costs and to optimise the operation and maintenance of their physical counterparts.
"One of the digital twin's strengths is that it introduces a new way of working; it facilitates the sharing of information as well as the pooling of skills and experience."
A digital twin is a virtual replica of a specific object, system or process, reproducing its operation and components thanks to a set of digital models, thus making it possible to simulate its behaviour and evolution in interaction with its environment, as well as throughout its entire lifecycle.
Parts and devices, industrial machines and production lines, buildings, urban infrastructures and energy systems, human organs and social organisations… nowadays nothing can escape being mirrored.
This technology – implemented alongside other innovations such as the Internet of Things, extended reality, data analysis and machine learning – is now becoming highly popular in many areas.
Shipbuilding: reducing submarine design time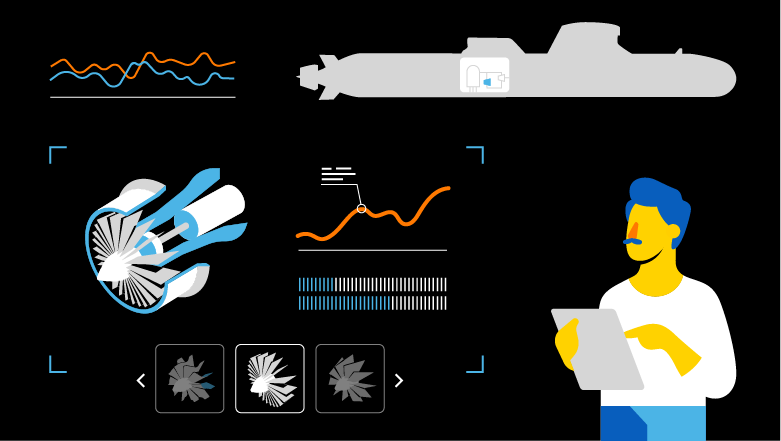 Digital twins are used in the shipbuilding industry at different stages of a ship's life. During the design phase, they make it possible to speed up the various development stages and to make better decisions whilst also reducing costs (due to less physical testing) as well as improving cooperation within the company and amongst manufacturers. One of the digital twin's strengths is that it introduces a new way of working; it facilitates the sharing of information as well as the pooling of skills and experience.
Faster as well as better design, this is what is illustrated by the Twin Ship project carried out by Naval Group. The company, which specialises in defence shipbuilding, has developed the digital twin of the propulsion chain of a French navy nuclear attack submarine by modelling all of its components. "The digital twin makes it possible to optimise design choices, to review a large number of architectural hypotheses. This would be very difficult to do by hand if we did not have this tool that predicts the performances associated with each setup being tested", the programme supervisor explains to French business magazine Usine Nouvelle. Thanks to this technology, bench testing time has been reduced from eighteen to three months.
Energy: facilitating the operation of wind farms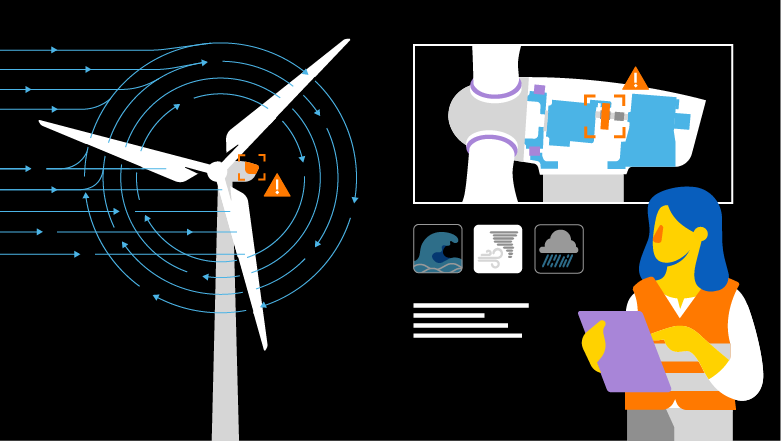 For a wind farm manager, one great challenge is to reduce running and maintenance costs whilst ensuring that the wind turbines work well under all circumstances. This is essential in maintaining electricity production, and to achieve this, they must constantly monitor the turbines' structural condition. However, inspections are costly, complex and sometimes risky, especially when the farms are in dangerous places such as remote areas with extreme weather conditions or in the middle of the ocean…
With a digital twin, technicians no longer need to brave the elements to monitor a wind turbine. Its digital replica enables them to follow its performance in real time, to plan maintenance activities according to the actual situation and forecasts made thanks to machine learning algorithms, to assess the risks of breakdowns so as to prevent them and, when necessary, to take action more efficiently.
In Brittany, engineering company Cervval, France Énergies Marines (the French institute for energy transition dedicated to offshore renewable energies) and IMT Atlantique engineering school have launched the SubSEE 4D project to facilitate the operation of wind farms using a solution that couples a digital twin with deep learning methods. This solution is based on 3D-modeling of the wind farms, updated with sub-marine images, behaviour simulations, and the evolution of their submarine components according to sea conditions for example.
Transport: optimising rail network management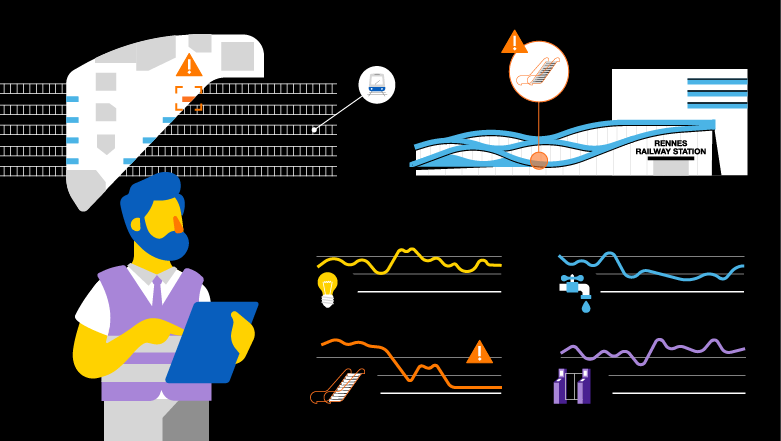 In June 2020, SNCF Gares & Connexions signed a 12-year partnership with Dalkia and Lille software publisher Stereograph, to carry out an ambitious project: to build digital twins of the French railway company's main 122 stations as a first step, then of all 3,000 of its stations on the national territory. The idea being to bring together all of the data relating to the stations' condition and evolution into a single platform, to create a BIM GEM (see box) that "will make it possible to have a real time and long term overview of the rail network."
In the scope of this project, the 3D models of the stations will be linked to historical data and operational data (from sensors or from the various SNCF services). Cross-analysis of these elements should enable the provision of decision aids (for modernising stations for example), facilitation of occupancy contract management, optimisation of energy consumption, or the development of a predictive maintenance strategy.
Medicine: better treatment of heart disease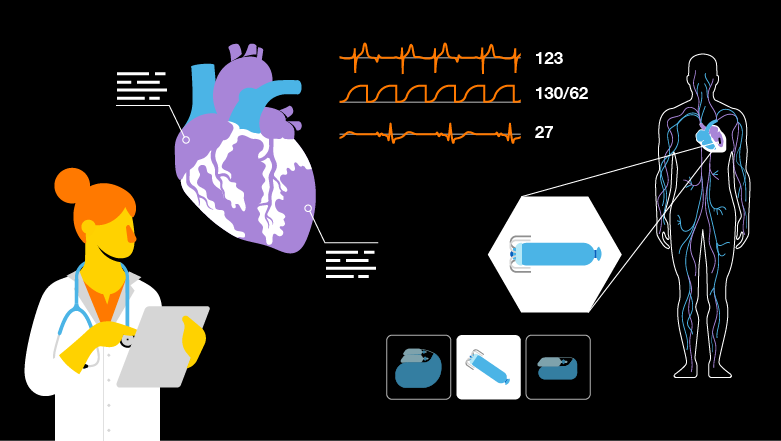 The digital twin is also tackling an "organic machine": the human body. For example, it can faithfully reproduce the heart's structure and operation, enabling simulation of medical treatment or surgery in order to assess their efficiency and foresee any potential side effects or complications. The aims being pursued are those of helping surgeons to prepare an operation, to predict the evolution of a disease, or to improve care personalisation. But one of the current challenges is to be able to accelerate (and reduce the costs of) clinical trials and drug approval procedures.
Coordinated by the French National institute for research in digital science and technology (Inria), the SimCardioTest project "aims to accelerate the adoption of digital simulation for the design of cardiac drugs and medical devices". For this purpose, the consortium, which brings together 10 partners from 6 countries, must demonstrate the feasibility and the advantages of in silico clinical trials (whereby in silico means that they are performed using complex computer calculations or computer models).
In the same vein, the mission of The Living Heart, developed by Dassault Systèmes, is to "to develop and validate highly accurate personalized digital human heart models" that will serve as a basis for cardiovascular in silico medicine. The French software company has incorporated the development of a digital twin of the human body, designed with its 3DEXPERIENCE platform, into its strategic guidelines. It is currently working with the Food and Drug Administration (FDA, United States) to look into the possibility of using its 3D model of a heart and be able to demonstrate the security and efficiency of new medical devices.
What is BIM GEM?
BIM (Building Information Modelling) is an approach, which consists in listing and modelling all of the technical information relating to a building with a view to its construction. The acronym describes both the process (of data production, management, exchange, etc.) and the resulting digital model, which is accessible by all of the project's stakeholders. As for BIM GEM, for "Gestion de patrimoine, Exploitation, Maintenance" (Asset management, Operation, Maintenance), it refers to the use and updating of the model's data for operation and maintenance of the building once it has been constructed.