With the help of chatbots and connected speakers, artificial intelligence (AI) has become an essential part of customer relations. But while consumers are getting acquainted with these new assistants, the major players in the industry continue to dedicate themselves to further technological developments and to promoting their acceptance.
What is at stake for businesses when it comes to AI is not only acquiring customers but maintaining customer relations.
Europeans might still be a little slow on the uptake, but elsewhere adoption is skyrocketing. This is the case in Korea, where the penetration rate is already 12% of the population, while in France it is just 4%. Large Korean businesses have been using AI since 2017 to give their customers access to their favourite services. From telecommunications operators (e.g. KT and SK Telecom) and equipment manufacturers (e.g. Samsung and LG) to so-called over-the-top service providers such as the Naver search engine or the Kakao social network, every business has a strategy for creating its ecosystem of products and services. The assistants take various forms, such as the small domestic robot from Innoplaylab or the Naver Wave speaker, which looks like an upturned cup and is therefore more convenient to take in the car or use in the office.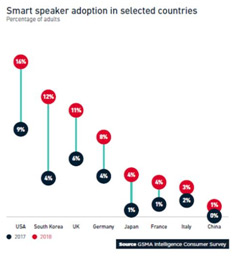 Understanding consumers to serve them better
France, however, is not unwilling to accept assistants. There is a good appetite among customers but they still need support. Vincent Petillo, head of the Mousquetaires accelerator and Innovation Partnerships, reveals that for the Intermarché voice command service: "We realised after the first few months of testing that some customers did not instinctively use an action or a verb when they were speaking. They simply gave the name of a product. We have developed the assistant so that a search can be launched just by giving the name of a product, without specifying "I want" or "I'm looking for"".
Should you use a third party service or develop your own solution?
It is possible to build a chatbot without understanding semantics or natural language. Facebook made that very easy with the launch of its own solution. It provides automatic response software add-ons for a standard customer message ("Hello", "Goodbye", etc.) and no development is required. The SNCF chatbot, OUIbot, was initially linked to Facebook Messenger. Today, the assistant is also available on the SNCF website, which saves them from sharing customer data and gives them more autonomy.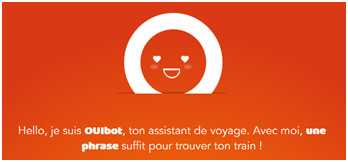 This is important because what is at stake for businesses when it comes to AI is not only acquiring customers but also maintaining customer relations.
We are all AI programmers
Making AI an open-source technology is an underlying trend. It reassures consumers about the balance of power when it comes to this technology. But the aim is also to demystify it by making it available to everyone. Want to find a person from a photo? This is now an achievable feat for anyone, simply by programming software with a few lines of Python language. The algorithms are open-source and social networks are an almost unlimited database. With AI, it is not even necessary to know how to program. For example, the Microsoft application Sketch2Code transforms a simple drawing into HTML code.
Knowing how to speak to the general public
Mass education is a means of democratising AI. Google has a certain talent where this is concerned. Its web application Quick Draw shows in a playful way how a network of neurons learns to recognise drawings. The user is invited to add their contributions to "the world's largest doodling data set, shared publicly to help with machine learning research". States also have a role to play. Finland, for example, has set itself the target of training 1% of its population in artificial intelligence. Education is a way of reassuring the public and allaying the unfounded fears that are sometimes fuelled by the media, such as the fear of losing one's job or the fear of surveillance. But aside from these concerns, assistants arouse curiosity and amusement. The next step is to make them indispensable.