So, what was new at the Consumer Electronic Show that took place in Las Vegas from 6th to 9th January? 5G, AI, connected objects, resilience, transport… An overview in five keywords with the help of Olivier Ezratty, a consultant and author who publishes a
report on CES each year
.
The need is felt to create a more responsible digital offer and even to manage a kind of digital excess.
5G
It's not at the LAS Vegas CES that innovations in the area of smartphones are the most prominent. Both manufacturers and operators save these for MWC Barcelona, which will take place at the end of February. However, several innovations should still be mentioned in the wake of 5G, of which the first applications were presented, "notably for broadcasting 8K videos, such as the France Télévisions experiment at Roland Garros in May 2019", Olivier Ezratty notes.
As according to general opinion, will the applications not be "firstly b2b"? "It's possible, he replies, but we shouldn't underestimate human creativity, which is capable of rapidly exploiting any new technological ability. Applications based on virtual and augmented reality could play this role."
Artificial Intelligence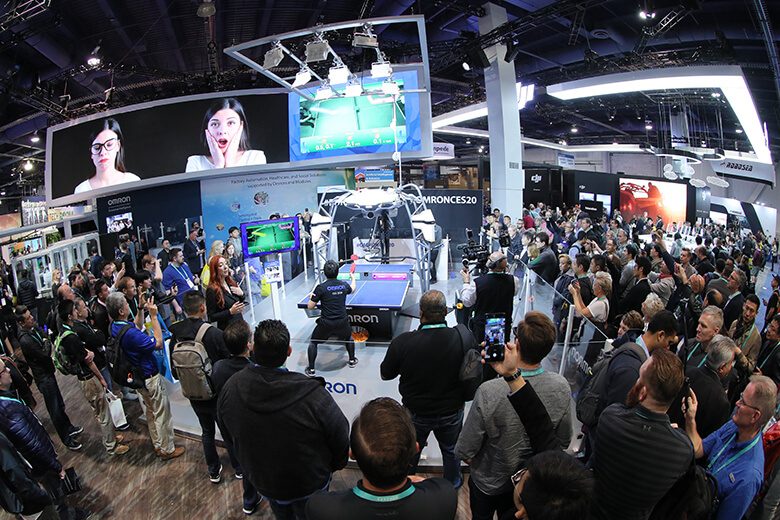 More so than last year, AI was leading the pack this year at CES. All the major exhibitors gave demonstrations and delivered their key messages in this area, starting with Google and Apple, whose voice command sales battle knew no ceasefire in the show's aisles, in fact quite the opposite. Another raging battle is that of AI components, Olivier Ezratty observes, "as much for equipping data centers as for edge computing and connected objects". Exhibitors in this area detected by the consultant include: Nvidia, Intel, Horizon Robotics, and, on the French side, STMicroelectronics, Cartesiam (hosted by the latter), Kalray (hosted by NXP), and GrAI Matter Labs. And of course, Qualcomm, HiSilicon, Mediatek, etc. who equip smartphones and set-top boxes.
Where there's AI there's privacy, or its policies, and this theme was not missing from CES this year. "AI integrated in connected objects also makes it possible to better respect privacy, Olivier Ezratty writes. After Snips and Linagora (present on the Eureka Park Business France stand), others are offering means of managing voice command locally."
AI is also being developed in the area of healthcare and Olivier Ezratty highlights the wide variety of diagnostic tools, "some offer to perform a medical check-up just by examining your face with a webcam".
Connected objects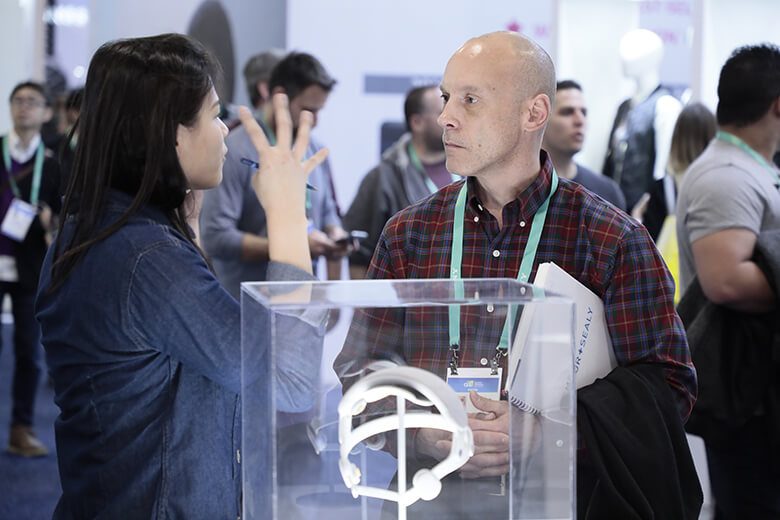 Like each year in Las Vegas, CES is in some ways the connected objects show. The home, family, health, sport… are the usual fields of application but we can now add sleep to this list, an area in which, Olivier Ezratty notes, "the creativity of startups is rather advanced", as well as "anything that enables surveillance of babies and pets".
Whether they're about sleeping better, meditation, or still about capturing our emotions, for the most part the solutions rely on brainwave-capturing (EEG) headsets. For Olivier Ezratty, "the most surprising one is that of French company NextMind, which analyses brainwaves from the visual cortex that are picked up through 9 EEG sensors, and deduces what we're looking at thanks to a bit of AI. It can be used in particular for video games."
The consultant is surprised at the lack of innovation in the robotics field, an area which, he deplores, "always moves at the speed of a snail being slowed down by a tortoise".
"We always see the same telepresence robots, the service robots, i.e. moving tablets that don't hear what is being said for the noise, and small programmable robots for educational purposes. Of course, there are some robots that try to capture human emotions and adapt to them but this is, thankfully, highly rudimentary.
Resilience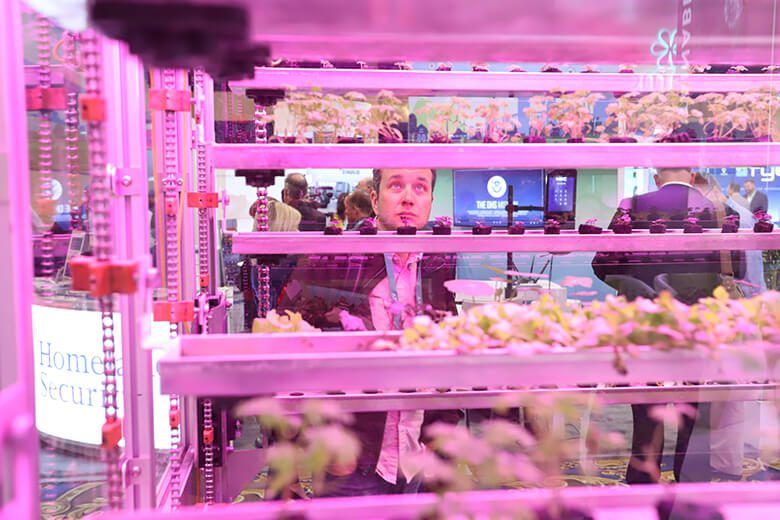 A feature of the 2019 show, the notion of resilience, had not disappeared this year. Beyond the environmental questions, "the need is felt to create a more responsible digital offer and even to manage a kind of digital excess", Olivier Ezratty observes. Thus, privacy was the subject of debate in which a representative of Apple took part; a first at CES and even "probably in a major show in the world".
Resilience from an environmental perspective was at the heart of the Eureka Park Climate Change Innovators awards.
Worth mentioning according to Olivier Ezratty are an air conditioning system that makes water evaporate (ST Engineering Innosparks Airbitat Compact Cooler), a French solar energy sharing system (Sunleavs), photovoltaic solar panels equipped with ultra-transmissive glass that improves efficiency by 15 % (Edgehog), a carpooling application (RideSVP Green Carpool Network), a technology for manufacturing flexible electronic circuits (Omniply Technologies Mekal), and a solution for reducing fossil fuel consumption by using an ethanol-based fuel in traditional motorbikes (Green Systems Automotives).
He also mentions Odd.Bot (The Netherlands) and its Project.BB, a small robot on four wheels that is supposed to roam beaches and rid them of contaminants, of plastic in particular; as well as Zero Mass Water (USA) and Watergen (Israel), two companies who offer a solution for collecting water from the air, as long as an energy source is available, be that solar or other.
Transports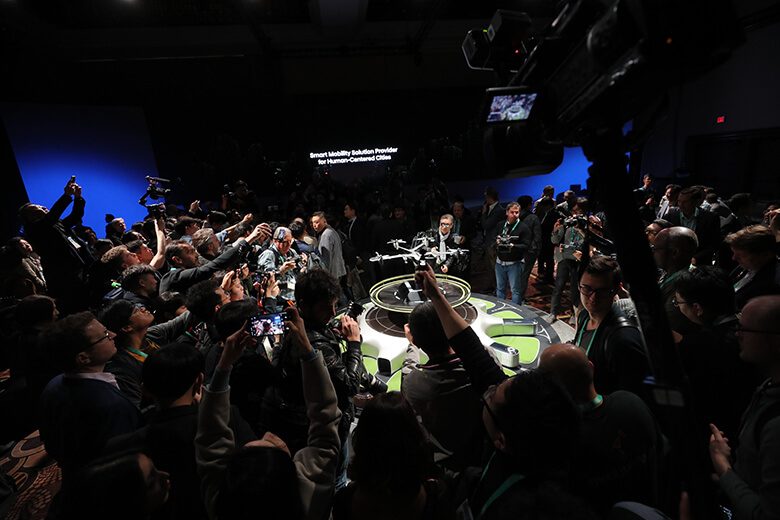 For several years now, CES has played a leading role in the transport technology sector. "Electric propulsion and range are still on the agenda; however, it is on the technological side of assisted-driving or autonomous vehicles that innovation is most visible" this year.
Autonomous vehicles mean LiDAR and, in the aisles of CES, competition was visible "between traditional vehicles à la Velodyne with their rotating laser and new so-called solid-state versions without mobile parts, such as those at Innoviz, LeddarTech, or Quanergy, not to mention the high-resolution radars that are starting to compete with LiDARs, such as those of Vayyar".
In terms of LiDAR and more broadly of autonomous vehicles, AI is never far away, of course, as it's about gathering and interpreting considerable volumes of data in real time. Olivier Ezratty brings French company Outsight to our attention, "who is a best-in-class in this area with a multifrequency LiDAR and a high-level interpretation AI". Outsight won a CES Innovation Award and has announced partnerships with Faurecia, Safran, and ADP.
Drones were the stars of this year's CES, which "sanctified their professional uses and the software solutions that accompany these, in particular for automated guidance", the consultant underlines, adding: "also to be mentioned is a topic of high interest combining drones, aerial imagery, and agriculture: hyperspectral imaging, which enables very fine analysis of the composition of soils and harvests."